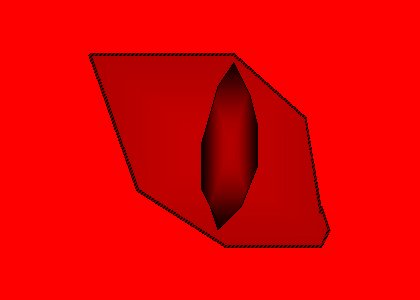 Felis Flamus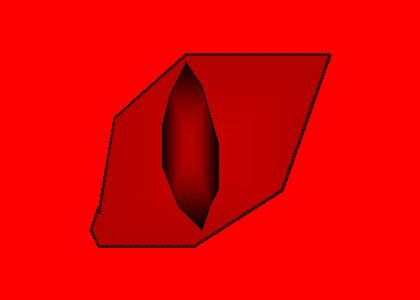 Burning Man 2007 ~ The Green Man
E and 7:15 ~~~ 16 campers, 4 virgins ~~~ 100'x100'
Kip and Cat Herder emerge bloodied, battered, and bruised from spending two years with Iron Rose. (Kip does, anyway. Cat Herder has hidden safely behind her.) Iron Rose was a great camp, but there was a lot of work involved, and at times, a distinct lack of humor. Particulary, when it came to The Great Burn Barrel Caper.
Thus begins Aluminum Pansy. Our motto, "All of the spirit and energy, without all the work." We turn the tables on the 3 Bs, with Bloody Marys (bloodied), Mancakes (battered), and Cold Draft Beer (brewsed).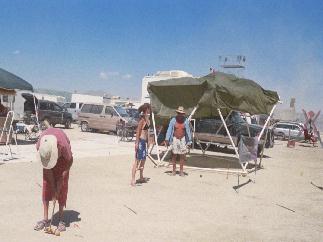 We apply for placement and get our land a bit further back than we had hoped, although we are in better shape than our Iron Rose counterparts, who are placed in the 5:00 plaza. But determined not to overwork ourselves, we go to the playa without much of a plan when it comes to our structures. We know we need some kind of shelter from the sun and wind, but with no coordination, a few people bring a few different structures, and it is a total hodge podge.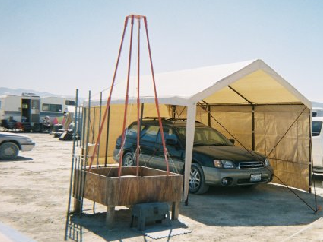 Cat Herder has become quite spoiled with access to the Iron Rose shower, and has watched as the Whippencracker struggles with grey water elimination. So she campaigns hard for a shower that will allow for simple grey water collection in buckets, to be hauled out by everyone who uses it. Glen and Charles come through.
Biff debuts Frosty Cold Adult Malt Beverages (draft beer).
Pete, Peggy, and Randy debut Blues and Blue Movies
Kip debuts Mancakes.
Kip debuts Painted Piggies.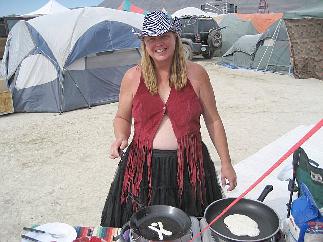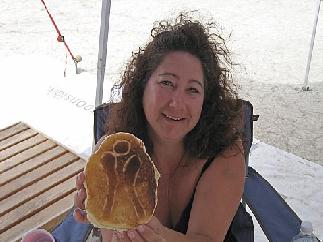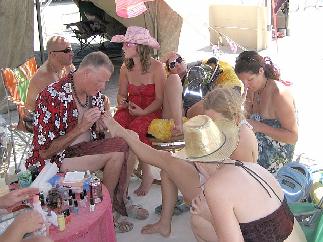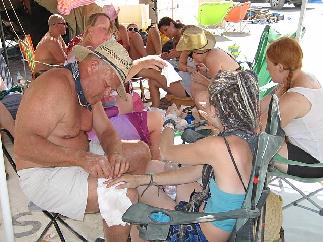 With Mancakes and Painted Piggies in the WWW, coupled with our camp name, we realize mid-week that we have been placed on Rainbow Row. Discontent with our camp name begins to emerge, particularly amongst the guys.
2007 proves to be a banner year for wind and dust. Biff, a virgin who arrives early and stays late with Cat Herder, is near melt-down -- more than once. Kip comes to his rescue and talks him down -- more than once. During one white-out, there is a particularly serendipitous playa moment when, just as Biff is about to go postal, they find Blysse's massage tent. As the wind blows relentlessly outside, Kip drowns a dust-covered Biffster in massage oil as she gives him a full body massage. She works on him until the wind dies down. He is too full of dust to fight back.
A few blocks away at Silicon Village, where sCary is camping that year, there is no wind or dust.
Biff, Cat Herder, and Marty find out what it means to camp next door to Hedonistic Massage Camp. This and croquet help get Biff through the week.
Early on, while deciding to start this camp, and while discussing how to decide who can camp with us, Kip and CH come up with a policy. We're willing to take a chance on some unknowns, and if anyone gets out of control in any way, we will sit on their head. Only one virgin camper, Rachel, needs this at all, and she responds well. By the end of the week, we all like her a lot.
Burning Man 2008 ~ American Dream
B and 6:50 ~~~ 12 campers, 3 virgins ~~~ 100'x100'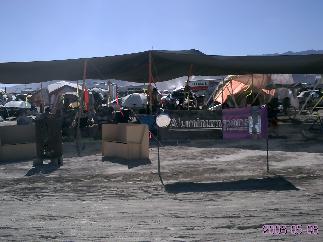 It is obvious to everyone from the year before, that the work required to erect and tear down so many smaller shade structures has proven to be more than would be required to coordinate one big structure. So Glen steps up again to create our big-ass, easy-to-erect shade structure.
Cat Herder decides to forego placement, as she likes to be in complete control of her geographical destiny, and instead takes the camp independent, gunning for space closer in. CH and Mama Cat are the first to arrive, and have no trouble grabbing up the area we think we need on B inside of 7:00.
Beach Bum decides to dye his hair blue, on playa, providing his campmates with hours of entertainment.
On Wednesday morning, most of us are out of our tents, sitting under the shade enjoying our morning coffee, when suddenly someone asks, "Where's Don's car? Where's his tent?" Don has left in the middle of the night, without a trace. (Actually, he leaves behind a single extension cord.) It isn't until we get back to the default world that we find out what happened.
The discontent with our camp name grows and is expressed with blatant vandalism of the Aluminum Pansy banner. Cat Herder takes note.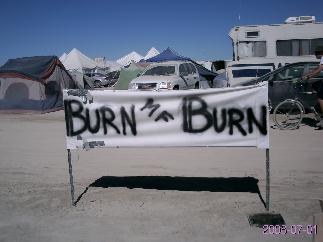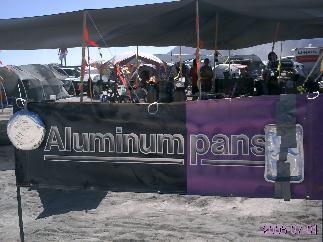 Bobcat gets "Virgin of the Century". Not only does he come for the entire week, but stays a week longer to help tear down the city.
Burning Man 2009 ~ Evolution
B and 5:00 ~~~ 17 campers, 4 virgins ~~~ 130'x100'
Seeing as how it's the year of Evolution, and realizing that if the camp name isn't changed, she'll have a Revolution, Cat Herder pushes for a cat theme name and before we ever hit the playa, Aluminum Pansy has officially become Felis Flamus.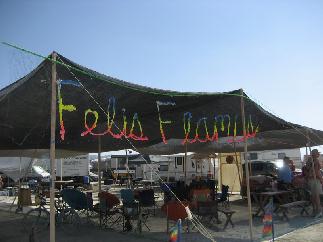 Going independent in 2008 worked out so well, there's no question that we will do it again. In addition, Bobcat is going in a week early to help set up the city, so we have an even better chance at getting what we want. We are gunning for 150'x100' on a corner. But it's not as easy as we thought.
This year, they have shrunk the city back down and squeezed the theme camps so that they do not have the room they requested. Bobcat is just one man, with a couple of tiny tents. He gets the corner, but isn't able to hold the entire space. Cat Herder and sCary arrive to find several large trucks parked in the area that we want, reserving overflow space for Red Lightning, one of the theme camps near us.
But we luck out. When Bobcat takes CH over to talk to Red Lightning, the first person she sees is someone she knows -- Sunshine. So although Red Lightning's minion "in charge" proves to be difficult, Sunshine does a lovely job of playing liaison between us, and we come up with a workable compromise, which results in us giving up about 20' of the street front we needed. In the end, we are able to fit in everything and everyone, except for Mama Cat's teepee, which was to be our dust shelter.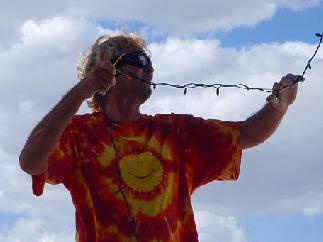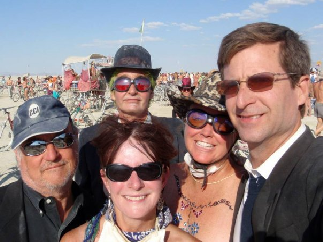 Kip debuts Bocce Ball and Darts.
Kip debuts Liquor in the Front, Poker in the Rear.
Kip debuts our first real sound system!
Xcess wines and dines his fellow cats.
Beach Bum lights up the camp.
Debut of the Critical Tits Secret Service Escort.
Kip and Mama Cat debut the cuddle trampoline. Mona likes it a lot.
Mama Cat debuts Dreaded Locks.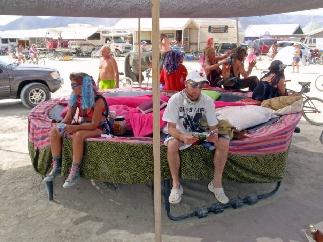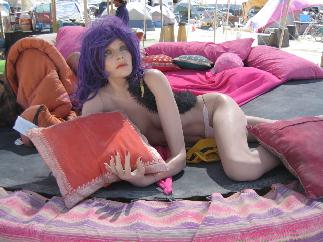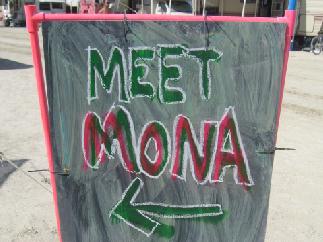 Dreaded Locks, a hair falls workshop, is a hit. We have 50 or more women in camp for several hours, and it takes on a life of its own, with women braiding each others hair, etc. It ends only when every last inch of the boxes and bags of yarn has been used up. The men of Felis Flamus are very happy.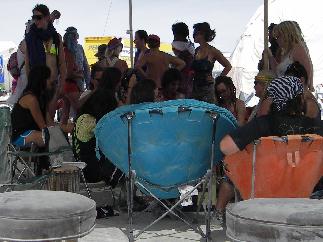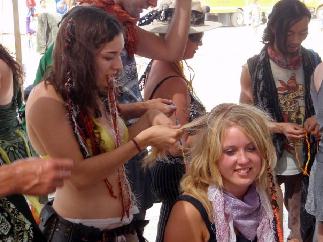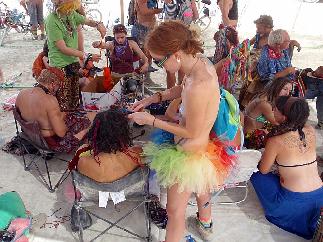 This year, our policy on misbehaving campmates gets tested. We knew Hot Lynx was going to be a hand-full, but never dreamed that she would go so far as to deface a neighbor's art. Kip, sCary, and Cat Herder do an amazing job of damage control, and 24 hours later, the situation is much improved, and the neighbor has forgiven us as a camp. Through a textbook case of good cop (Kip), bad cop (Cat Herder), Hot Lynx removes herself from the camp for the rest of the week, and the only thing Cat Herder ever utters to her is, "I'm gonna need those boots." For the full story, click here.
Burning Man 2010 ~ Metropolis
D and 8:00 ~~~ 20 campers, 5 virgins ~~~ 200'x100'
We get oh-so-close to having the art car there this year, but it refuses to be towed, digging in its heals and back on its haunches, to prevent an already-exhausted sCary from dragging it along. But we do have a brand new sign (courtesy of Beach Bum and Kip), brand new burn barrels (courtesy of sCary, Mama Cat, Yvonne, and Kip), upgraded playatech (courtesy of sCary), a dust shelter (courtesy of Mama Cat and CatPhish), and all of the infrastructure of the year before.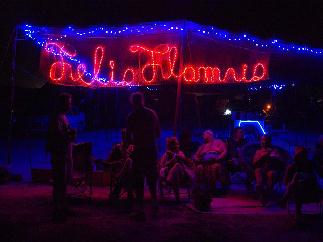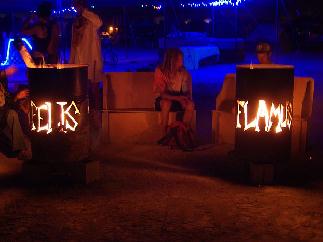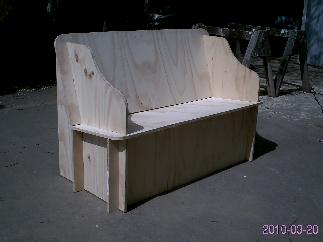 We are gunning for B and 7:00 this year, but BMorg says, "Fuck the BRC map! We can do whatever we want!" and flags areas for placed theme camps that had been designated as independent locations, including B and 7:00. So Bobcat grabs a corner at D and 8:00, Cat Herder has to let go of what she can't control, and we end up with a large, un-contested space and great neighbors, including some of the Temple crew right next door.
For the first time since 2008, the Virgin of the Century title is in contention, with Joyful threatening to oust Bobcat from his two-year reign. She gets so darned excited about her first year at Burning Man, that she ends up volunteering to help Whippencracker with Iron Rose setup, agrees to come in on Tuesday pre-event, and vows to Whippencracker in an email, "I don't know what help that you need, but I'm very conscientious and will help you in any way that you need until you don't need help anymore." Oh my.
As predicted, Whippencracker and company have Joyful hopping for 4-5 days, and the VOTC title is definitely up for grabs. Bobcat has, after all, put in a full week or more, post- or pre-event for three years running now. The two are absolutely neck and neck right up until.....Sunday, when the dried cranberry incident knocks Bobcat violently off of his throne, and Joyful is our new VOTC champion!
This is also the year of musical tents. Bobcat's brand new Coleman is quickly flattened by Mother Nature. He takes over Cat Herder's tent, erected for a single night's lodging for her first night without sCary. Then Joyful's zipper gives in to the dust, so Beach Bum sets up his extra tent for her.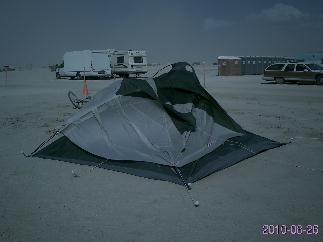 But Kip tops them all, as she never sleeps in the same place twice, after showing up sans tent poles (don't ask). Thursday night, she sleeps under Mama Cat and CatPhish's big tent teepee, which then goes down in the wind late the next day. So she spends Friday night under her own, very airy shade structure. Saturday night, she bunks up with Biff in his tent (a night of conscience she will always regret). And on Sunday night, with Biff now gone, she ends up in Joyful's zipper-challenged tent. Slut.
The Second Annual Hair Falls Workshop, complete this year with our own hot Chippendales waiters, is another success. RockIt and Joyful work their butts off during the whole event, teaching and herding, and as a result, we have very little moop this time. In the end, we have brought so much yarn this year that, six hours into it, we have to start snatching yarn from the hands of the ladies, so that we can wrap it up and have dinner.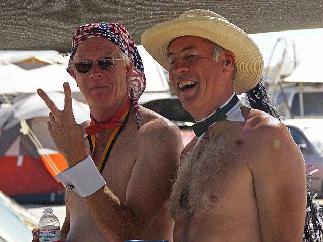 Xcess outdoes himself again, this year with a freezer full of ice cream, and bacon-wrapped shrimp to die for.
Don gets assigned his playa name this year, whether he likes it or not - Bolt.
And we begin creating the new Felis Flamus dictionary, with definitions for staggering distance and a new verb, "Biff" - to flake, to fuck up, as in, "I totally biffed LNT this year when the trampoline blew away in the dust storm on Saturday."
Cat Herder struggles this year with the realization that she has worked harder and been more tired in the four years since starting this camp than she ever did at Iron Rose. So she vows to get back to the camp motto in 2011 (all of the spirit and energy, without all the work) by scaling back her contribution.
And Dustin, a new camper to FF, says it all when he comments about the FF campers and the intelligent, wry, sarcastic sense of humor that has become a trademark of our camp, "There's a lot of show, but not a lot of ego." Yep.
Burning Man 2011 ~ Rites of Passage
G and 7:00 ~~~ 24 campers, 6 virgins, 9 strays ~~~ 150'x200'
This year we opt for a little further out, and as a result, don't have to fight so hard for space. In fact, we're able to secure not one, but TWO corners, and end up sub-letting some of our extra space after all campmates have arrived, and we find ourselves with plenty.
Where the Cuddle Shuttle is concerned, the second time proves to be our charm. After refusing to go in 2010, the Cuddle Shuttle makes it to the playa in 2011. After getting turned down during the mutant vehicle application process, sCary wins his appeal.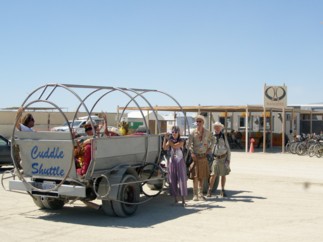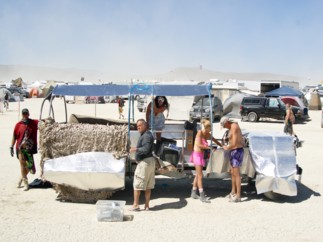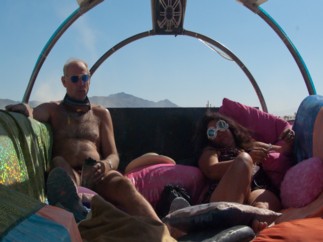 Then DMV turns us down for the day license, but Felis Flamus tricks it out a bit more, takes it back, and gets thru on the second try (even though a second try is clearly against the rules).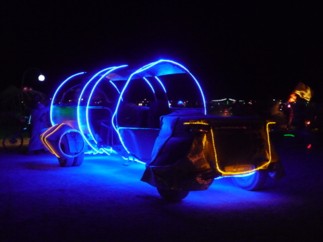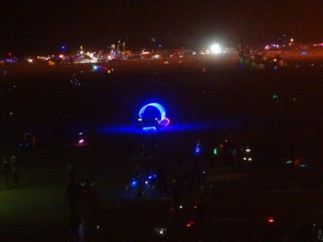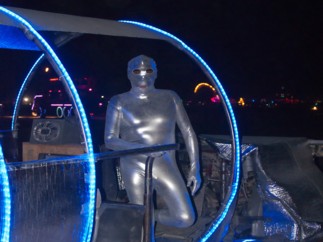 We get the night license easily, as the sequencing on the rocket boosters is bad ass (courtesy of Dr Pete), and we have an overall brightness factor that stands out on the dark playa. We even have our own alien.
We get ourselves together this year to pose for the sat photo on Thursday at 11:49am. You had to be there to appreciate the precision with which Beach Bum gets us ready for the shoot. Although Biff gives a pretty darn good rendition.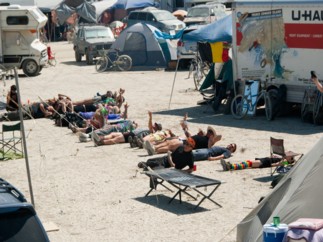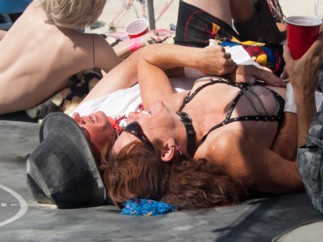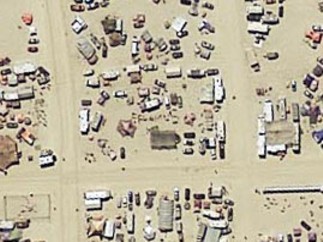 Burning Man 2012 ~ Fertility 2.0
F and 6:30 ~~~ 33 campers, 14 virgins, 10 kittens ~~~ 150'x200'
An awesome year, perhaps our best ever. The playa dishes out an average amount of weather, certainly more than last year. But that's nothing, compared to what the default world dishes out to many of our campmates. Beach Bum starts the whole thing when his 300,000+ mile Jeep finally bites the dust just two weeks before BM, and he decides he can't come. Then Flying Fox has a blow-out so big, it wipes out parts of the undercarriage. This, on top of other troubles, mean he and Ynot have to bail. Joyful begins her battle with car trouble, then moves on to health issues, and eventually says 'Uncle'. Metal Spice comes on in with a heavy heart. Her dad has just had surgery and hasn't woken up. sCary has battery trouble on the way in, Cat Herder has electrical trouble, Sheila and Ask Me have overheating problems, and Overkill has a rental truck that isn't behaving, discovered only after loading it, and has to unload and reload a substitute. We have one huge surprise when on Wednesday night, Beach Bum magically appears in camp. And sure enough, the bad news comes for Metal Spice. Dad has passed, and she has to leave early. But not before a beautiful pilgramage to the Temple, where she leaves a remembrance on the sunrise side, which the rest of us watch go up first on Sunday night.
Hard to believe there are 14 virgins in camp. It doesn't seem like it. Beach Bum's catatonic canopy becomes the wall of light, and is amazing. Hair falls, a success, as usual. FCAMBs, oh so tasty.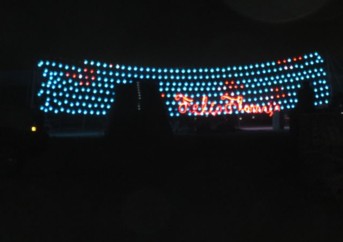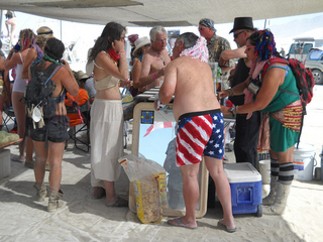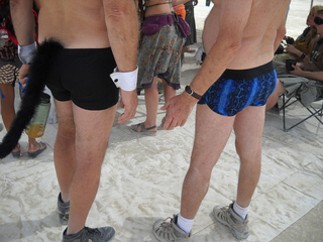 With some last minute finish work on-playa, the Cuddle Shuttle passes DMV easily this year.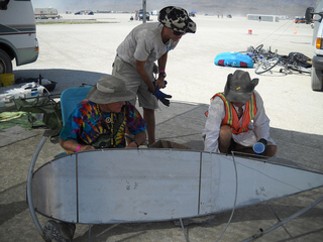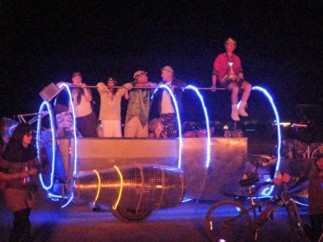 It looks awesome, of course, but the beautiful talent offered on the stripper pole during the day inspection doesn't hurt either.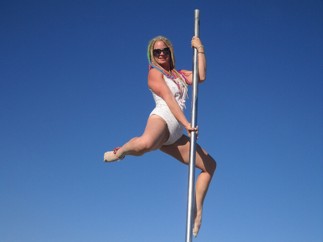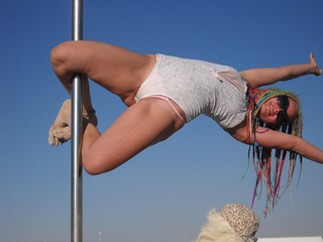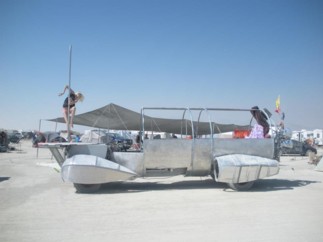 sCary volunteers the Cuddle Shuttle to shuttle sky divers to the airport, and with Bobcat's help driving, we get several gratis airplane rides for campmates over BRC. And we are thrilled to have visits from former FF campmates, Mama Cat and CatPhish, Urchin and Alex. Dad never makes it in, due to mobility issues, but some of us go visit him.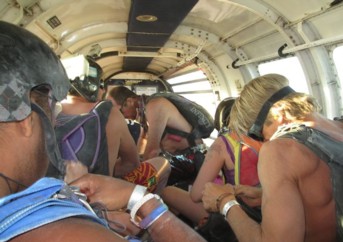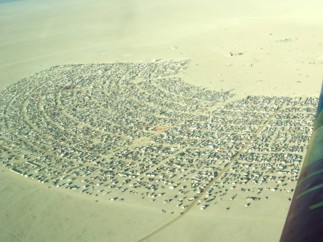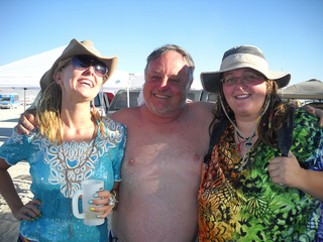 We have a really cool patch this year, compliments of Overkill and Metal Kitty, and Mona, as always, is a hit......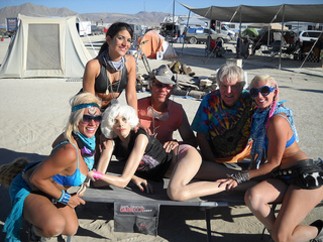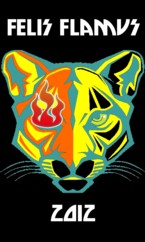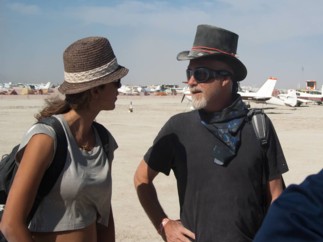 I (Cat Herder), in this, my 9th year, have two experiences that I've never had before.
Prior to the Burn, there had been discussion on our Yahoo group, that this might be the year of a group dust angel. I commented that I had never done this thing, this thing that is now a right of passage for virgins at Greeters (ever since spankings were outlawed), and that a group angel would be a perfect beginning for me. That beginning became even more profound, when it came at the Temple, after Overkill, Dollface, and I had spent a sombre hour with Metal Kitty. As we walked out to our bicycles for the trek back to camp, Overkill found a particular intoxicating pool of playa dust, and said, "It's time." Knowing exactly what she meant, we all got down and created our playa angels, giggling together in a very sweet ending to our pilgramage.
My second first was the experience of watching the Man burn from camp. A handful of us (Kip, sCary, and I, please remind me of who else was there) stood in the road by Beach Bum's wall of light (thank you, Beach Bum/Overkill/Neil), with some very awesome music playing on our camp stereo (thank you to all who contribute to this magic), watching it from afar. Nice.